Vrindadevi Temple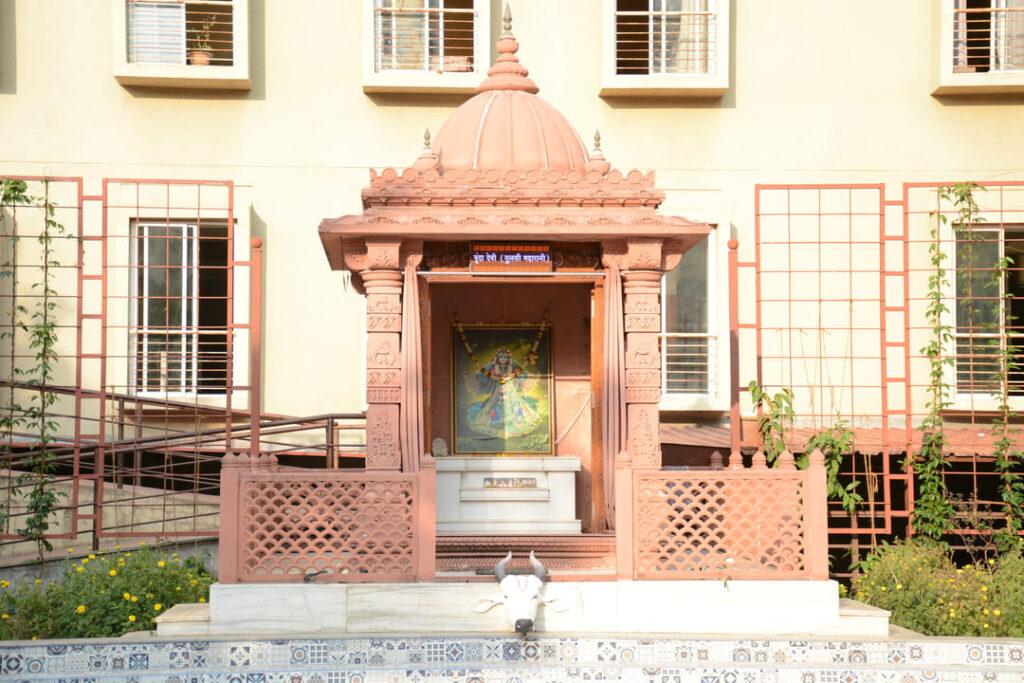 According to ancient Vedic teachings, Vrindadevi also known as Tulsi is the bestower of devotion to sincere spiritual seekers. Vrindadevi who takes a form of a holy shrub is popularly worshipped across the world. Leaves of Tulsi are offered to Lord Krishna. It is believed that Lord Krishna doesn't accept the most opulent of foodstuffs if not offered with Tulsi leaves. As a mark of honour and to offer her prayers, a temple of Vrindadevi has been established on the premises of NVCC. Installed in front of an artificial pond, the temple bears witness to the gorgeous boat festival held at various times in the temple.
Flower Farm Behind Vrindadevi Info Center
In order to increase the green cover and become a self-sustainable organization, NVCC Pune has begun floriculture farms on the premises. Flowers of various varieties adorn the well-manicured lawns of NVCC behind Vrindadevi Information centre. These flowers are strictly for the worship of the deities and the remnants are successfully processed as fertiliser thus completing the cycle. There is also a dedicated place for cultivation of Tulsi which is said to be a rich source of oxygen and an air purifier. So, a visit to the temple of NVCC will surely nourish one inside out.
Sustainability @ NVCC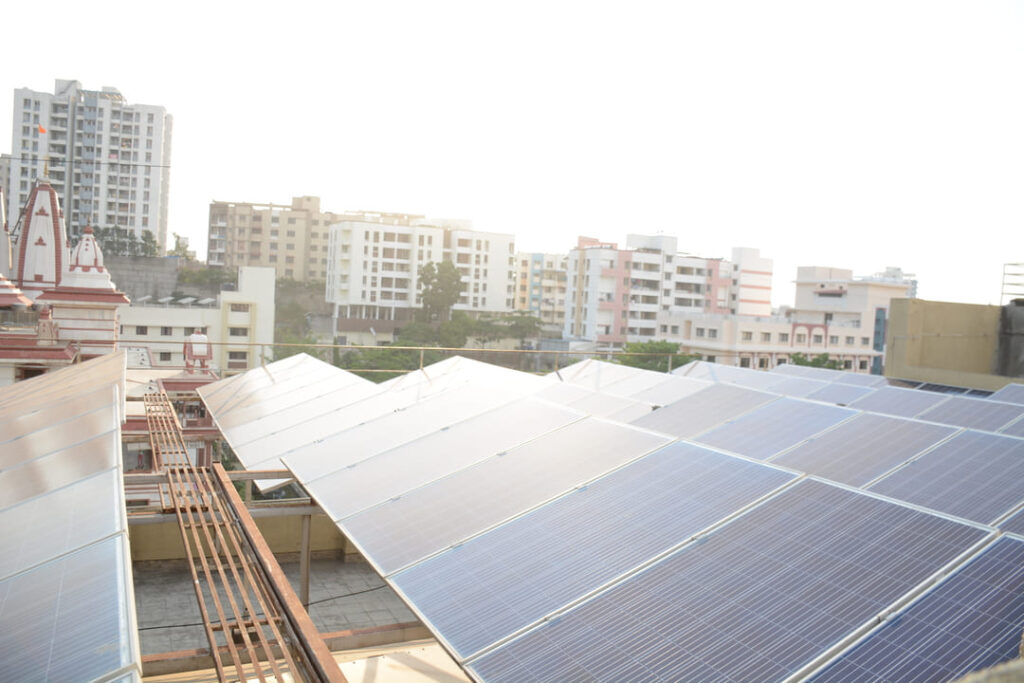 Continuing our efforts to become sustainable and switch to renewable energy sources, NVCC Pune has installed Solar panels on the rooftops of their buildings. The power generated is used for lighting purposes thus contributing to environment protection.
Cow protection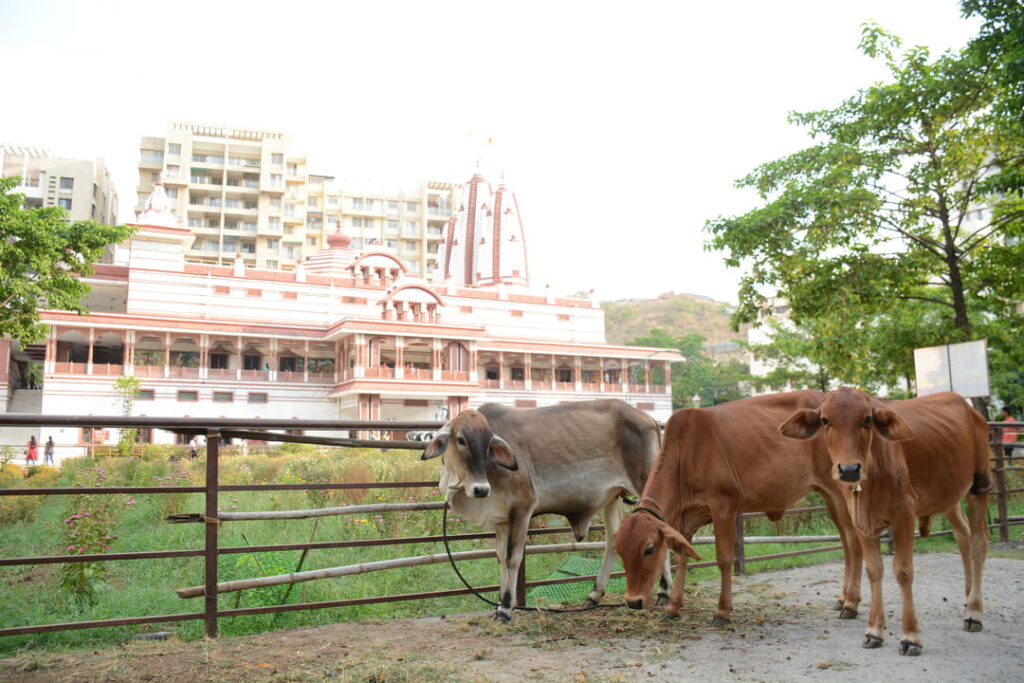 Vedic culture teaches us to respect and care for all living entities- Vasudaiva Kutumbakam. In this spirit, NVCC Pune has begun a cow protection shelter. The shelter houses a few cows and calves which are sponsored by the visitors. Being in the presence of cows is said to be therapeutic and healing. Visitors are encouraged to visit the cow shelter. 
Community around NVCC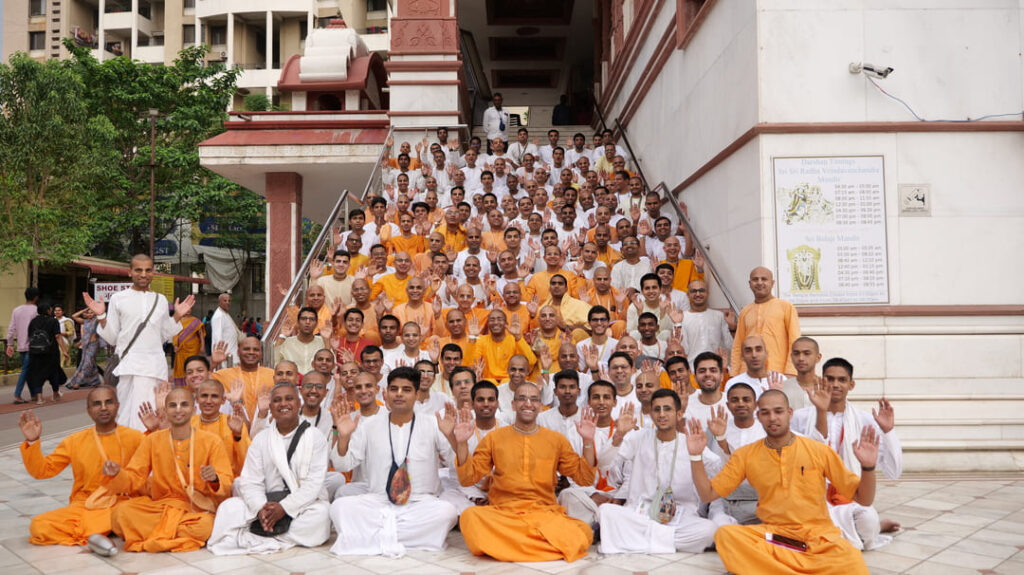 If one wants to acquire the mercy of the Lord, he has to associate with pure devotees. Such association alone can, by degrees, release one from the quivering elements.

H.D.G A.C. Bhaktivedanta Swami Prabhupada
In these times when everyone and everything is connected yet people are becoming increasingly isolated and lonely. Loneliness is reported to increase depression and mental health problems. To counter this increasing menace and to provide a wholesome , healthy environment for devotees, NVCC has a rich legacy of congregation around the temple. Devotees are usually part of a group who are guided by a senior devotee with considerable experience in life. Such senior devotees are referred to as Counsellors. The Counselee system is one of the greatest assets of devotees. Counsellors usually provide valuable insights into life and situations thus enabling devotees to take informed decisions. Counsellors also lend a patient ear to the inevitable problems of life that devotees might have to face. This gives immense mental strength to the devotees who are then able to balance their material and spiritual lives and dedicate themselves to the service of Krishna. Counsellors also guide devotees with respect to various services in the temple like participation in festivals, community volunteering and so on. The motto is to provide an environment conducive to devotion and a safe place for emotional wellbeing of devotees.
Vedic Training for Children
Balsanskar, moral education, good habit cultivation, Vidyashram
It takes a village to raise a child. – An African proverb.
Children are like sponges that absorb everything from their surroundings. The habits, thinking patterns and moral values developed in the early formative years extend into later years as well. With these facts in mind, NVCC has begun training programs for girls and boys. These classes are usually conducted over the weekend so that their regular curriculum is undisturbed. Children are encouraged to learn Sanskrit slokas to improve memory and concentration, to hear inspirational stories about various devotees in different eras and chanting holy names of Lord. Children learn to focus on Krishna and gives them inner strength. Short trips to holy places in and around Pune are also arranged for the children.
Varishta Vaishnav Program
For retired people, pertinent need in society considering children settling abroad and parents are alone.
Pune has always been known as Pensioners paradise as it used to be the chosen place to settle after retirement. Now however Pune has emerged as a burgeoning epicentre of growth and expansion. However, it has led to many elderly being alone. NVCC Pune has begun a spirituality program for elderly called Varishta Vaishnava. Here the elderly retired people come together and discuss about the devotional aspects. They also share their life lessons and realisations from their myriad experiences. Special yatras are also arranged for the elderly.
Organic Living
Our outlets encourage organic products for chemical free healthy life.
NVCC Pune is driving initiative of living healthy by going organic. There are outlets run by NVCC Pune that house grains, oils and daily groceries that are completely free from chemicals and preservatives. NVCC Pune also promotes millets as a part of national initiative to support local produce. NVCC Pune also has allied services like YOGA, Naturopathy and Ayurvedic consultation to promote healthy living.