Live Darshan & Lectures at ISKCON NVCC Pune
4.30am-5.00am    : Mangalarati Darshan
7.30am-8.00am : Sringara Darshan
8.30am-11.55am: Darshan remain open
12.30m-1.10pm    : Raj Bhoga Arati
4.30pm-6.30pm    : Darshan remains open
7.00pm-8.00pm: Sandhya Arati & Darshan remains open
8.30pm-8.45pm: Last Darshan for the day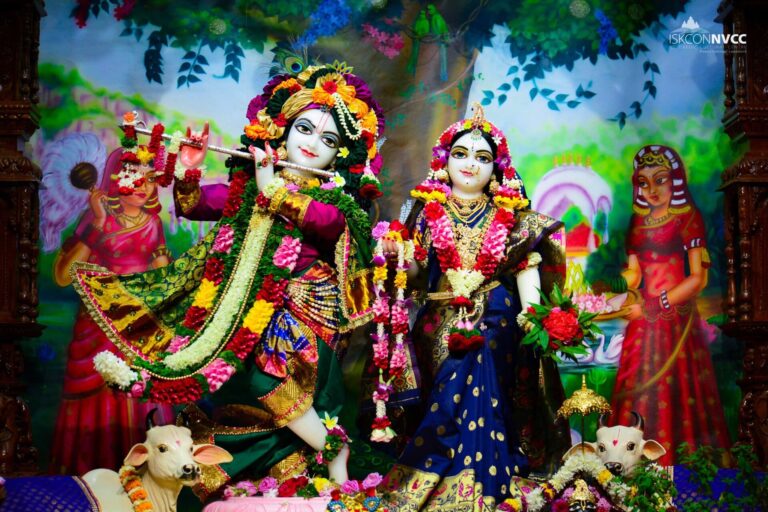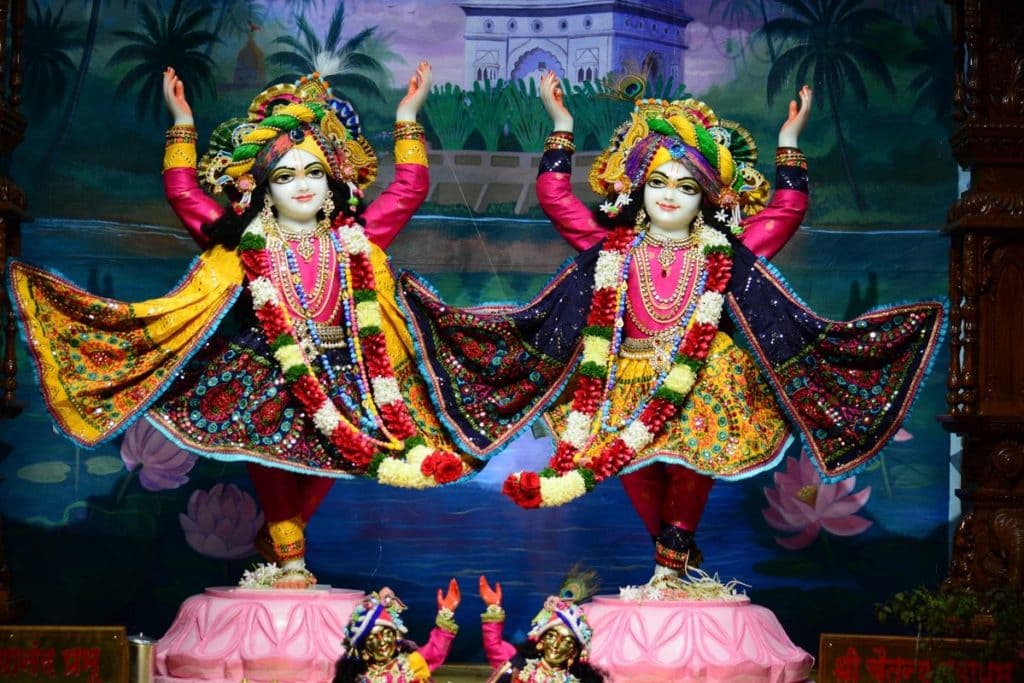 Sri Sri Radha Vrindavanchandra Mandir
The story of ISKCON NVCC dates back to almost 1995, when late Mr. Banerjee met HH Gopal Krishna Goswami and expressed his inspiration in seeing the worship of Sri Sri Radhakunjabihari. He offered his Balaji deity and house as a gift to Maharaj and requested that Balaji be taken nice care of by ISKCON. The money from the house sale became the seed money for purchasing the NVCC land of 6 acres. Though we were hesitant to embark on a huge temple project, the spiritual guidance from HH Radhanath Swami in building vibrant communities full of satisfied devotees offered a clear direction. The encouragement, supervision, and continued guidance of HH Gopal Krishna Goswami, at every step of the project's growth was the motivating factor for the team.
Sri Balaji Venkateshwar Mandir
What is Meaning of Venkateshwara? Lord Balaji is also famous as Govinda. Lord Balaji is very kind and helps anyone who prays to Him for help. Lord Balaji at Tirupati has performed numerable miracles. The surroundings of Tirumala awaken waves of bhakti of Lord Balaji and the name Govinda appears on the lips of devotees. Millions of people visit Lord Balaji at Tirupati every year. The reason being that Lord Balaji is famous as the Lord who helps during one's misfortune. The same Lord Venkateshwara has descended in the city of Pune, and will similarly attract thousands of people to His temple which is now under construction at Pune through the efforts of His loving devotees and patrons.
In the following paragraphs we will see how the Lord so mercifully descended in this world to live on the top of Seshachalam, the mountain that is located at Tirumala.
Venkateshwara means the Lord, who frees us from all of our sins. Ven means sin, Kat means one who delivers. We remain in this world, suffering, birth after birth, because of our sinful reactions, now in this age of kali, it is an age of sin. It is an ocean of faults.
5.00am-5.35am    : Mangalarati Darshan
7.40am-8.10am    : Sringara Darshan
8.40-12.10pm    : Darshan remains open
12.40pm-1.20pm: Raj Bhoga Arati
4.40pm-6.40pm    : Darshan remains open
7.10pm-8.10pm    : Sandhya Arati and Darshan remains open
8.40pm-8.55pm    : Last Darshan of the Day